PPC or Pay per Click marketing is a form of digital marketing where you
strategically place adverts
across the internet, and only pay if you receive a click to your website
BUYING CLICKS IS THE QUICKEST AND EASIEST WAY OF INCREASING YOUR WEBSITE TRAFFIC
Not only that, hand picking the clicks you buy and being able to choose which page of your website they click on means the clicks can easily become leads and sales.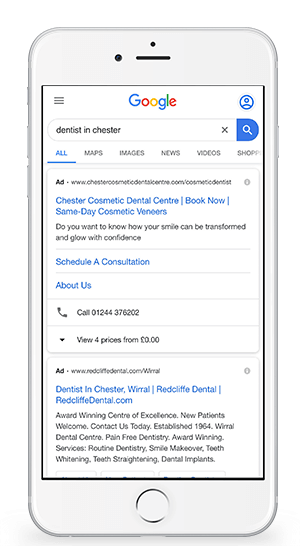 WITH PAY PER CLICK MARKETING THE 1ST PAGE OF GOOGLE IS GUARANTEED. EVERY TIME
For example, if we bid for the search term "dentist in Chester" our ads can show up at the very top of the search results (above organic results)
SOME KEY BENEFITS OF USING PPC TO GENERATE TRAFFIC TO YOUR WEBSITE…
Instant Results
You can get targeted, relevant clicks from potential customers within minutes of launching your ads.
Only pay when your ad is clicked
Your ads will sit in the top positions on the first page of Google for free, you only pay if your ad is clicked.
target your ideal customers and locations
Hand pick your clicks by specifying what search terms (keywords) you want clicks for and choose where those potential customers are located.
fully measurable and trackable
You can track, record and attribute every single click you receive through PPC.
TURN IT UP OR DOWN WHEN YOU NEED
You can use PPC as a sales and lead tap where you can turn it up and down whenever your business needs it.
PPC can be used on all major search and social platforms
not sure which platform is right for you?
Call us on 01244 955488 and we'll give you some free expert advice
Our most commonly asked questions, answered.
CAN A COMPETITOR CLICK ON MY ADS AND DEPLETE MY BUDGET?
In a word no, Google provides a safeguard against this which detects unusual click patterns. Any clicks that are deemed "invalid" or from the same source will be refunded to your budget.
This doesn't need to be a concern for social media ads because your competitors don't see your ads.
WHICH IS BETTER PPC OR SEO?
This really depends on what you are trying to achieve. If you primary goal is instant increased traffic to your website then PPC would be the best option.
HOW QUICKLY WILL I GET CLICKS?
Within 24 hours of your campaigns going live.
HOW DO I PAY FOR CLICKS?
You pay the platform directly through your ad account. Google, Facebook etc will only spend your agreed budget, not a penny more.
WHICH PLATFORM IS BEST FOR MY BUSINESS?
Choosing the platforms your customers use is the most logical choice. However, different platforms offer different user types and different marketing options for your business so if you are looking to grow or diversify your customer base then keep an open mind.
We can of course advise you which option is best to help you acheive your specific goal. 
WHAT BUDGET WILL I NEED?
That is entirely up you. You can spend as little or as much as you want. We work with businesses that spend as little as £10 a day and businesses that spend £5000 a day, in both instances the businesses generate the leads they need from their ad spend.
We would be more than happy to advise you on what you should start with. Generally we recommend starting small then increasing over time if you need to.
HOW DO I GET SET UP FOR THE FIRST TIME?
By creating ad account (for search engine PPC), or a business page/profile (for social PPC).
You can then start building your campaigns and providing your payment details. Setting up campaigns properly can be the difference between PPC success and failure so we offer a full, professional set up service at a fixed cost. Call us on 01244 9555488 to discuss this if you need help.
WHAT ARE YOUR MANAGEMENT FEES?
Our fees are a FIXED MONTHLY FEE (not a percentage of your ad spend). Fees depend on the amount of work required to manage your campaigns not how much your budget is.
DO I NEED TO SIGN A CONTRACT IF I WANT YOUR HELP ?
No, never. We prefer to earn your loyalty with great results. 
If you can't find the answer to your question, give us a call on 01244 955488 and we'll answer any question you have
ask a PPC expert
Want to find out more about PPC and how it could benefit your business, then call our experts now on 01244 955488
already using ppc?
Have your campaigns audited by a Google certified expert and find out how to improve them.
here are some our customer's thoughts on PPC advertising
ALREADY USING PPC?
Find out how you can take it to the next level by requesting a free PPC health check.
Are you using the best keywords?
Are you bidding too much or too little?
What are you wasting money on?
How can you reduce click costs?
How can improve your average position
Are you tracking results, and how can you get better ones?
….and much, much more!
"Your website review helped me increase my conversion rate from 3% to 8% which has helped my business immensely. Thank You!"
Garry Jones – Advanced Vehicle Solutions
TEST YOUR PPC WITH A FREE PPC HEALTH CHECK