75% of google searches don't go beyond the first page
SEO (Search Engine Optimisation) is a modification process applied to your website to get you in front of the 75%
FREE SEO AUDIT
OUR SEO SERVICE
75% of Google searches don't go beyond the first page
SEO (Search Engine Optimisation) is a modification process applied to your website to get you in front of the 75%
WHAT GOOGLE WANTS FROM YOUR WEBSITE?
Ranking high on Google's search results is difficult, here are the 4 key ranking factors that Google looks for in a website
RELEVANCE
Google is the most popular search engine for a reason….it's the best at finding relevant information based on what a user is looking for so relevance is a key element a website needs to rank well.
EXPERTISE
Google's latest ranking algorithm gives extra weight to websites that demonstrate expertise in their field. Showing expertise on your website usually comes from your content (text, blogs etc) and can really help your rankings. 
AUTHORITY
Google measures the authority of a website and its content by looking at things like customer reviews and backlinks.
TRUST
Google measures the trustworthiness of a website by looking at the age of your domain, its links from trustworthy sources and the security on the website.
HOW DOES GOOGLE ORGANIC SEARCH WORK?
1. IT ALL STARTS WITH A SEARCH
2. GOOGLE THEN CRAWLS THEIR INDEX OF THE WEB FOR WEBSITES THEY CONSIDER RELEVANT TO THE SEARCH TERM
3. GOOGLE THEN APPLIES THEIR COMPLEX RANKING ALGORITHM TO DETERMINE WHICH WEBSITE IS MOST RELEVANT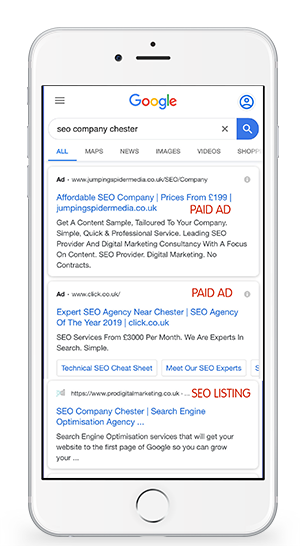 4. GOOGLE THEN LISTS EACH RESULT FROM MOST RELEVANT TO LEAST RELEVANT
5. THE USER THEN CHOOSES WHICH LISTING THEY WANT TO CLICK ON
6. THE USER VISITS THE WEBSITE THEY PREFER
HOW DOES SEO MAKE YOUR WEBSITE MORE RELEVANT, AUTHORITATIVE AND TRUSTWORTHY?
Content Structure
This makes sure that all content on your website is easily navigable. Our team of SEO experts will ensure that Google not only finds the right information, but is then able to interpret it correctly to rank your website as high as possible.
Content Optimisation
Content should be optimised to make it straightforward for Google to rank your website. Our team of SEO experts will ensure your website's content is kept up-to-date so your search results remain as high as possible over a long period.
Search Engine & Directory Submission
Google and other search engines need to know about all your website's pages and content. To ensure maximum online visibility and keyword coverage, our SEO experts will ensure your website pages are visible and accessible by Google, Bing and Yahoo and many other search engines
LINK BUILDING
The more relevant websites that link to yours, the higher your "online authority" becomes and the higher search ranking becomes. Our team of SEO specialists will "cherry pick" partner websites to link to and build your online network strategically.
4 REASONS
YOUR BUSINESS
NEEDS SEO
1.
Organic Search Delivers The Most Traffic
More internet users click on organic listings than they do paid ads, in fact the top 3 organic positions get around 70% of clicks.
2.
SEO Builds Trust & Credibility
The goal of any experienced SEO is to establish a strong foundation for a beautiful website with a clean, effective user experience that is easily discoverable in search with thanks to the trust and credibility of the brand and its digital properties.
3. 
Good SEO Means a Better Customer Experience
One of the many aspects of SEO is customer experience, customers know what they want. If they can't find it, there's going to be a problem. And performance will suffer. SEO ensures your customers do find what they want.
4. 
SEO Exposes Your Website to the Vast Majority of Searches
The primary purpose of SEO is get your website to rank on Page 1 of Google. 75% of searches on Google don't go beyond the first page of results, so SEO done properly will expose your website to the majority of traffic.
here are some of our customer's thoughts on seo
HOW OPTIMISED IS YOUR WEBSITE FOR GOOGLE SEARCHES?
Find out by requesting a free SEO health check.
How fast is your website?
Does your website have the correct meta data?
Is it optimised for mobile searches?
Has Google indexed all your pages?
Why do competitors rank higher?
What you can do to improve your rankings?
….and much, much more!
TEST YOUR WEBSITE WITH A FREE SEO HEALTH CHECK
Questions about SEO?
There's no need to search for answers
What is SEO?
SEO (Search Engine Optimisation) is a process of improving website rankings on search engines like Google. By increasing rankings, your website is exposed to more people and will receive more visits/clicks.
HOW DOES SEO WORK?
It all starts with a search. You type a keyword into Google and it searches the web for the most relevant results for you. The crux here is relevance. Google lists the results by most relavant first. SEO engineers your website to be the most relevant it can be. The ultimate goal is to be in the top 10 (first page of results) most relevant so you get exposed to the majority of searches.
Can my website EVER get to the first page of Google?
Yes it can. Arguably any website can. However there are many factors that will determine whether it actually does or not. Why not request a Free SEO audit which will give you indication of how likely YOUR site is to reach the first page.
How long will it take to get to the first page
SEO is not a quick win solution, so think in terms of months rather than weeks. The general rule of thumb is 6 months, however each website is unique so we will analyse your website and the websites that currently out-rank you in the search engines, then calculate the time needed to overtake them using one of our monthly SEO packages.
i've had SEO done on my site before, can you pick up where that left off?
Of course. What we do before embarking on any work is to carry out a full SEO audit on your whole website. This will tell exactly what works needs to be done and what work has already been done. Why not test your SEO with our Free SEO Audit and see how well optimised your website is.  
Can we do SEO ourselves?
Yes of course you can. However many businesses simply don't have the time, resources or knowledge to do it well enough, which is why most of them work with a specialist agency. 
should i use SEO OR PPC?
This depends on what you are trying to achieve. If you want a quick win solution, SEO probably isn't your best option. However if you are looking for long term and sustained website traffic that is cheaper pound for pound than most other online marketing methods, then SEO is absolutely the right thing for you. 
do you just focus on google?
No. As the majority of your traffic will come from Google (90% of searches are made on Google), this is where we focus our efforts. However there are other search engines like Bing & Yahoo that can bring in targeted traffic too so we focus on optimising for those as well.
do you keep me updated on the work you're doing?
Absolutely. We send weekly/bi-weekly reports on the work we have carried out as well as reports on the results our work has yielded. These include Google Analytics reports, Ranking Reports and Audits.
how do i know if i'm getting a good return on investment?
We will tell you exactly what you are getting on a regular basis. We will keep you bang up to date on the improvements your website has made and how many clicks, leads and sales your website is getting as a direct result of the SEO work. 
if you cannot find the answer to your question,or you are considering doing some SEO on your website,  give us a call, our experts will gladly answer any queries you have.
need an expert seo company to help improve your rankings and grow your business?
Find out more about our proven SEO services by clicking the button